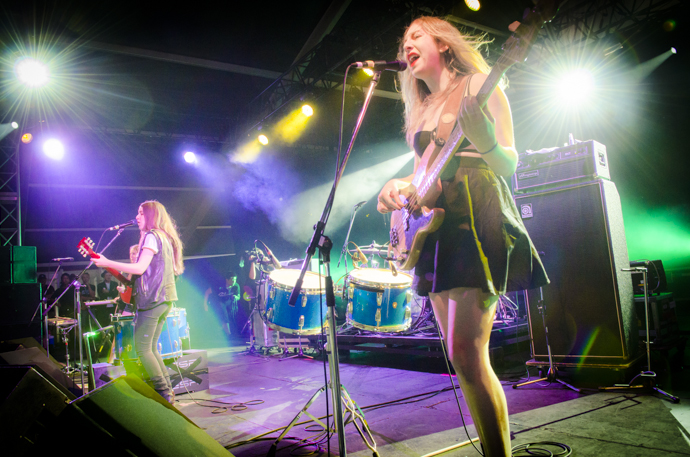 The 2013 edition of the Fuji Rock Festival was all about visual spectacle. Thanks to an influx of EDM acts equipped with zany stages (Skrillex, Boys Noize, Feed Me), intense-looking outfits who are a photographer's dream (Nine Inch Nails, Death Grips, Savages) and Bjork's set, this year's stint at Naeba was designed for the smart-phone set. A lot of my favorite acts this year embraced that over-stimulated mindset, but some also bucked against. Here are my favorite memories after a week back home.
1. HAIM (Red Marquee, Sunday July 28)
Last year, I left Fuji Rock 2012 wowed by Japanese band Sakanaction's live show at the White Stage. What made me feel especially giddy…and what prompted me to name them my favorite act that played…was the potential flowing from the set. They seemed like a band coming into their own, destined to come back to Fuji Rock in the near future on a much larger stage.
Los Angeles trio HAIM stirred up the same feelings in me during their polished, catchy set at Red Marquee Saturday afternoon. It's was one of the few shows of the weekend to give me chills – starting with the echoing of the titular word in "Falling" and going on until pretty much the end – and also one of the best to see. "We are going to jam for a bit," they announced before ripping into some great guitar playing, and gave everyone huddle in the tent a Vine-worthy moment when all three primary members of the group started playing drums together. Yet HAIM also had the chops for a festival – they wowed the audience, and won them over quickly, leading to one of the loudest crowds at the end of their set. Their music is tight and memorable, and they know how to pull it off live.
It was perfect for a festival, full of eye-and-ear-grabbing guitar solos and choruses that should be shouted along to. It was exhilarating to watch a young group coming into their own, and knowing they will be back at Fuji Rock in no time, bound for bigger stages. Read our report here.
2. Skrillex (White Stage, Friday July 26)
On a visual level, nobody came close to touching Skrillex's raging set Friday night. He played on a spaceship/robot stage that shot fire and lasers. He had hyperactive videos playing behind him. He waved an American flag. Hell, his set even started in the middle of a rainstorm…complete with threatening lighting in the distance…that made it seem all the more intense. Nothing looked cooler. But Skrillex's non-stop electronic roller coaster sounded good too, the funny-haired producer practically devouring entire genres and getting the packed area dancing. His music at times sounds aggressive, but the message at the core of it is about coming together and being with friends. His Fuji Rock show was a uniter. Read our report here.
3. Rhye (Red Marquee, Friday July 26)
One of the acts going against the look-at-me grain, the intimate R&B of Rhye translated quite well to the Red Marquee Friday afternoon. Even though it probably would have sounded even better at night, the group nailed the process of bringing the skin-tingling songs of this year's Woman to a live setting. It was elegant and surprisingly energetic, Rhye lengthening and strengthening their music for a crowd that wanted to move. And Mike Milosh's voice…a wonder. Read our report here.
4. Nanao Tavito (White Stage, Sunday July 28)
Dude tried to capture what a black hole might sound like during the second song. Takes guts to scream into a microphone while your pal wails away on a saxophone to capture the sonic qualities of a monstrous cosmic force…ON SUNDAY MORNING. Tavito's decision to be all over the place – he sang robotic R&B sex jams, more traditional folks and hands-in-the-air pop – made him stand out. Read our report here.
5. Gary Clark Jr. (Field Of Heaven, Friday July 26)
A happy accident – the sky opened up late Friday, prompting me to scurry for cover near the Field Of Heaven. I got hungry/thirsty (best beer was at Field Of Heaven, natch), so I wandered over in time to catch Gary Clark Jr. He blew me away, his jammy guitar playing punctured by riveting sonic moments, the sort of instances that jolt you upright from the (really good!) grooves laid down. Didn't plan on seeing him, but couldn't imagine this year without listening in. Read our report here.
Honorable Mention: Sotaisei Riron (White Stage, Sunday July 28)
At the time, Sotaisei Riron's set left me a little confused. Yet it's the show from Fuji Rock I've thought the most about in the past week, unable to stop wondering what they were up to. The band is famous for being media shy, and they enforced a "no cameras/no video" rule during their set. Musically, they were louder than on record, but there was still an intimacy to their songs that made it seem out of step with a festival full of flair. The lead singer seemed like she didn't want to out in public. They played mostly new material. It seemed like an anti-fest fest set…but one that stood out in an extremely flashy year. I can't shake it. Read our report here.