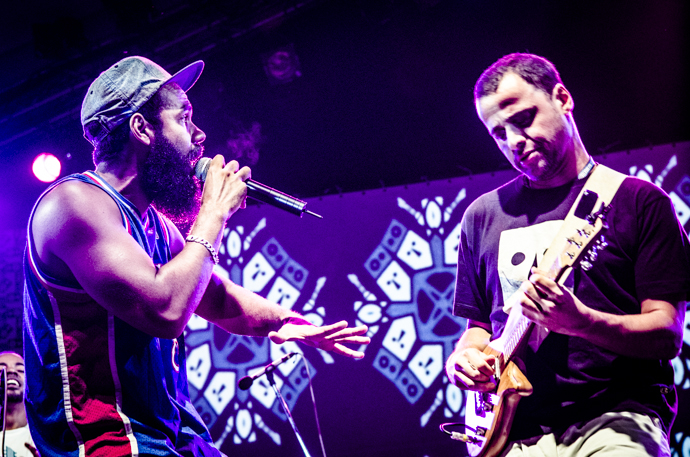 -Best show: BaianaSystem. My favorite thing about Fuji is the surprises, but I'd already known about this Brazilian quintet, so the surprise was more like shock when I realized how much I'd underestimated the power of their musical idea, and how pleasurable that idea was in a live setting. Though built around the guitarra baiana, the small solid-bodied electric guitar that carries most of the melody, the overall sound is propelled by the sing-song rapping of the group's forceful MC. Parochial in the best sense, BaianaSystem's driving combo of reggae, dub, and kuduro makes you wonder why you've been wasting your time listening to dirty bass.
Runner-up: Bo Ningen. Some may call these Japanese expats' "acid punk" art rock. Some may call it bullshit. At 10:40 in the morning, though, I call it better than a pot of espresso and a line of coke, and definitely healthier for you if not necessarily kinder on your eardrums.
-Most potent attack of cognitive dissonance: Watching skinny rock singer Hideto Komoto, in a Modern Lovers T-shirt, jerking and fidgeting awkwardly across the Green Stage during the set by the Route 17 Rock'n'Roll Orchestra while singing the Village People's "YMCA" in front a big crowd doing the song's original choreography in perfect unison.
-Most intimidating fashion statement: Mari Natsuki's, which consisted of a psychedelic print one-piece bathing suit, black half-stockings, baseball cap, white T-shirt, cape-like shawl, and boxing shoes. Runner-up: Tamio Okuda's band's, who were all dressed like cops. Runner-runner-up: Death Grips drummer Zach Hill in nothing but a Speedo.
-Sexiest singer: Sister Maud Hudson. Despite being confined to a wheelchair and cocooned in thick clothing, a cap, and dark glasses, Garth Hudson's 70-something wife belted the blues with undiminished abandon, especially one bawdy song in which she demanded her man be "agile, hostile, mobile," as Garth hid behind his wall of keyboards.
Smartest though least environmentally friendly improvement: The stretch of asphalt between the White Stage and Gypsy Avalon, which proved to be a Godsend when it rained.