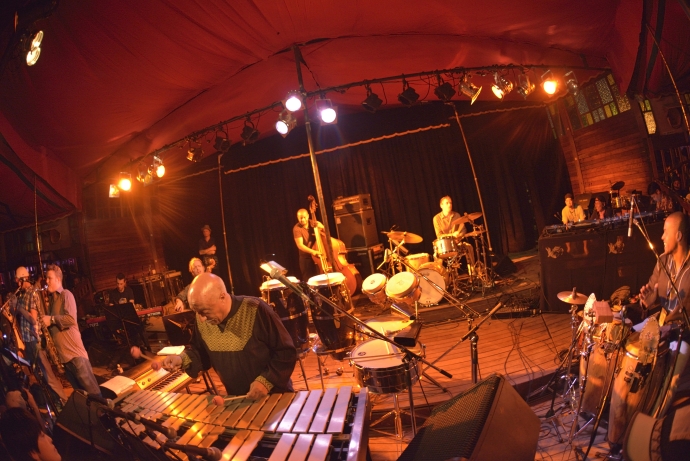 Just looking at the "best of" posts by my fellow Fuji Rock writers, it seems like there is some degree of consensus on which acts stood out. It is also great to see that each writer on the team got inspired and energized from the same acts in a different way. So here are my top five:
1)Mulatu Astatke at the Orange Court and Crystal Palace Tent.
Sorry to bore anyone who has been reading my other material on the site but without a doubt my favourite act of the festival was Mulatu Astatke. This man and his phenomenal group simply made this Fuji Rock like a dream come true for me. Not only was I able to review the band's stellar show at the Orange Court on Sunday afternoon but due to some incredibly good luck, I got a chance to meet the man briefly afterwards and ask him a couple of questions, a truly humbling experience that I will never forget. Here is a guy who is 70 this year, released his first album of Ethiopian Jazz/Funk in 1966, yet who had never performed in Japan before. To my ears and eyes, his ensemble's display of infinite passion and musical skill made every other artist at the festival look like amateurs.
3) Bassekou Kouyate & Ngoni Ba at the Orange Court.
My second pick goes to another band which has its roots in Africa, the high powered ethnic funk of Bassekou Kouyate & Ngoni Ba. The group played immediately after Mulatu Astatke on the Orange Court and when I got word from Mulatu's translator that I was going to be able to interview him at the backstage area of the Orange Court, he was very specific about the time, 8:10. I arrived early only to find Mr. Astatke standing at the front of the stage in awe of the wild dancing and and even wilder soul groove of this band. Just an amazing live band and by the looks of it, the most popular pick amongst the writers "best of" listings.
3) Jurassic 5 on the White Stage.
Hip Hop is always such great party music but I think that the difference between an exciting live hip hop band and a clichéd one is huge. This crew certainly falls into the former category and that must be a testament to just how many years they have been around. These guys had the smoothest voices and even with the whole White Stage area absolutely jam packed they still seemed to somehow make you feel like they were playing just for you.
4) The Hot 8 Brass Band at Crystal Palace Tent.
The whole point of live music is to give the audience something that it can't get from listening to a CD and with that in mind, being immersed in the sweat and facial expressions of this brass band from New Orleans made you feel like they had somehow transported you to that city of crazy good music and witchcraft.
5) Death Grips at the Red Marquee.
This band deserves a mention if only to make it known to people that the drummer from this three piece appears to be some kind of human energy generator. Where he got the strength to hit the skins of his kit that hard and fast for 45 minutes is beyond me. It didn't matter that I couldn't understand one word of lyrics, this was one hardcore band, and again it seems like several of the other writers on the Fuji Rock team are in agreement.