Lost and Found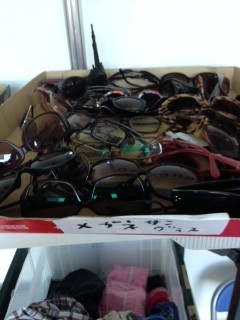 Lose your sunglasses?
"We have been averaging about 30 cellphones a day," according to Sho who is managing the Lost and Found station in the Oasis Area. Simple math means that around cellphones are in search of their owners.
"We try to answer the phones if someone calls, but it's best to stop by and check for yourself."
Sho adds that there are also about 20 wallets that have been recovered. But this year's haul is much less than year's past where many things were lost in the mud.
Other items in abundance are sunglasses, toys, and clothing. With just a few hours of the festival left stop by and have a look.
SAME CATEGORY
It's party time

posted on 2014.7.24 18:45

posted on 2014.7.24 18:57

posted on 2014.7.22 23:51
posted on 2014.8.1 16:04

posted on 2014.7.25 20:23

posted on 2014.7.25 15:53