Best of the Fest: Matt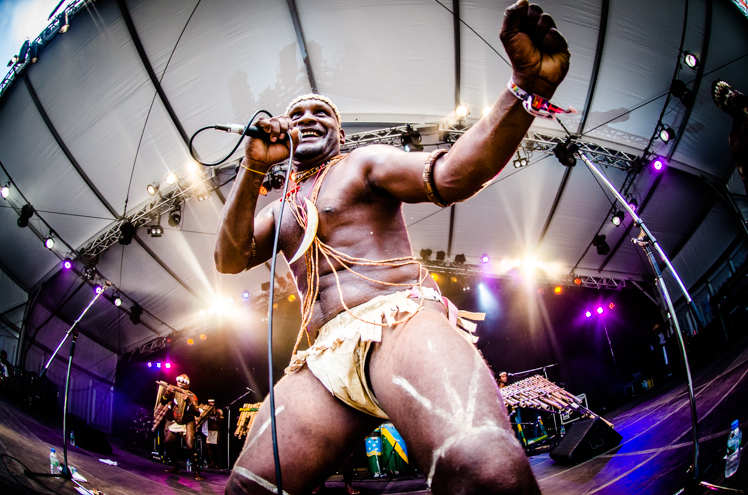 Another year gone, another 7000 words written over three days and a whole lot of fun among the dust and mud in the mountains. There was also the small matter of some amazing bands, whether on 'Ska Sunday' at the Field of Heaven, the alternative sounds of the Red Marquee, the vast area sound of the Green Stage or even the raw talent at Rookie A Go-Go at night. Here's my personal top five chosen from among this year's superb lineup.
Narasirato were the highlight of the festival for me, the Solomon Islander pan-pipe based ensemble music a ray of acoustic melody among the assault of guitars. It's fascinating to see how much variation you can get out of such a simple instrument, especially when the songs are weaved together from six different instruments on top of some unique percussion. The genuine happiness of the group and their effort at singing one song in Japanese (pretty decent at that!) sees the love reflected right back by the audience. The chance to experience another culture that you know nothing about through their music is one I will always treasure, especially with such accomplished musicians.
Tokyo Ska Paradise Orchestra lived up to their names, the start of their set a 40 minute heaven for any ska fan before they expanded into wider music territory including funk. Their manic energy, blazing musicianship and fearless soloing approach made me realise why they are such a well-known band in Japan and left me wondering why they weren't as well-known outside it. When your baritone saxophonist can match your guitar player in a solo, you know you have a band and a half!
John Butler Trio's set was a collection of his greatest hits, spanning from his older acoustic guitar material to his more recent electric guitar focused albums. Whatever instrument he was on, John Butler's ability was on show for all. I've never seen a musician able to coax as much melody and harmony out of one instrument as this man. The highlight of the set was his solo 10-minute rendition of 'Ocean', a sea of acoustic guitar sound enveloping the audience and perfectly suiting the misty mountain background. The best song of Fuji Rock for me.
Autopsy Report of the Drowned Shrimp performed a chaotic, runaway set of art-funk that closed out my Fuji Rock in the early hours of Monday morning. It was not just the music but also the band's visuals, all members dressing and acting perfectly as shrimps. From the thumping bass, underwater melodies, kidnapping of audience members onto stage and just plain fun, I cannot think of a better way to finish Fuji Rock.
Yoshida Yohei Group defy their young age with some impressive songwriting. They manage to capture the playfulness and spirit of jazz while joining it with the accessibility and pure melody hooks of pop. From the heavenly chorus lines to the woodwind jams and saxophone solos, it's a beautiful mix that deserves more than a look. They have just released a new album, 'Smart Citizen', give the mellifluous single Boulevard a listen here.
To see each individual live report, click on the band names above. Till next year!
SAME CATEGORY
posted on 2014.7.24 19:23

posted on 2014.7.24 18:34

posted on 2014.7.26 16:28
posted on 2014.7.26 12:42

posted on 2014.7.25 12:38

posted on 2014.7.25 18:33