Best of the Fest: Alisa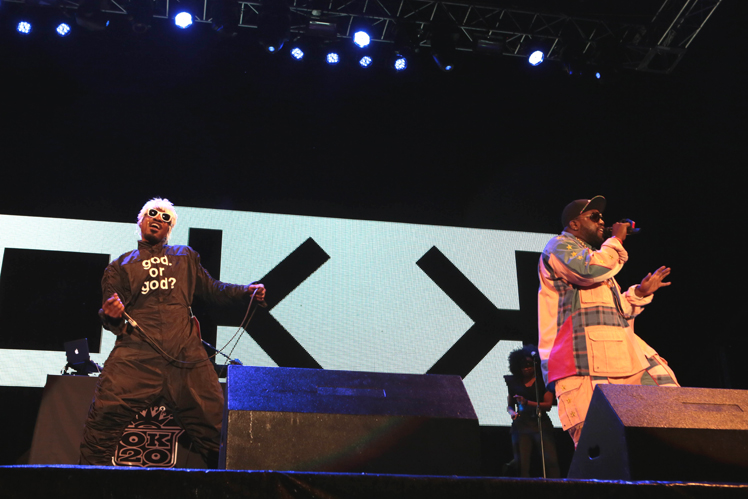 #1 Outkast @ White Stage, 7/27
The Atlanta duo put on the best hip hop show I've ever seen. Their setlist catered to diehard fans and radio listeners, with a perfect blend of old school and new school. What made the performance really good was Andre 3000′s undying energy, driving him to run from corner to corner of the stage while spitting his verses flawlessly, as well as the duo's engagement with the crowd. If you missed it, I'm very sorry.
#2 Jungle By Night @ Palace of Wonder, 7/26
The Dutch nine-piece funk/jazz band had the Palace of Wonder shaking from the ground with their infectious grooves. With all members being around twenty, they had the energy to keep playing and playing at 2AM. The stage had practically been turned into a sauna by the end of their set, but that was no reason for people to leave.
#3 Slowdive @ Red Marquee, 7/25
It might be because I'm young and didn't get to live through the shoegaze heyday, but Slowdive's performance was my Fuji Rock highlight. Entrancing a packed crowd of fans, the 90′s British band proved that they can still shred after a nearly twenty year hiatus.
#4 Parquet Courts @ RedMarquee, 7/25
The Brooklyn band's straight forward, high energy rock is just what everyone needed. People seem to flock to acoustic lullabies during the day while they recharge for the night, but Parquet Courts' fresh, electric sound was the perfect match for the sweaty weather.
#5 Oboreta Ebi No Kenshihoukokusho @ Red Marquee, 7/27

I had seen photos of the band in their neon shrimp costumes, but I didn't realize just how much of a performance the Japanese funk band puts on until I saw them for myself. The talented musicians play groovy music that's already great on it own, but they amp the show up a notch or two with visual stimulation and crazy dancing. You'll only see something like this at Fuji Rock.
SAME CATEGORY
posted on 2014.7.25 17:47

posted on 2014.8.5 23:17

posted on 2014.7.27 10:31
The Skatalites at 29 o'clock

posted on 2014.7.29 19:32

posted on 2014.8.5 18:09

Drop us a line...

posted on 2014.7.24 18:35