Best of the Fest: Shawn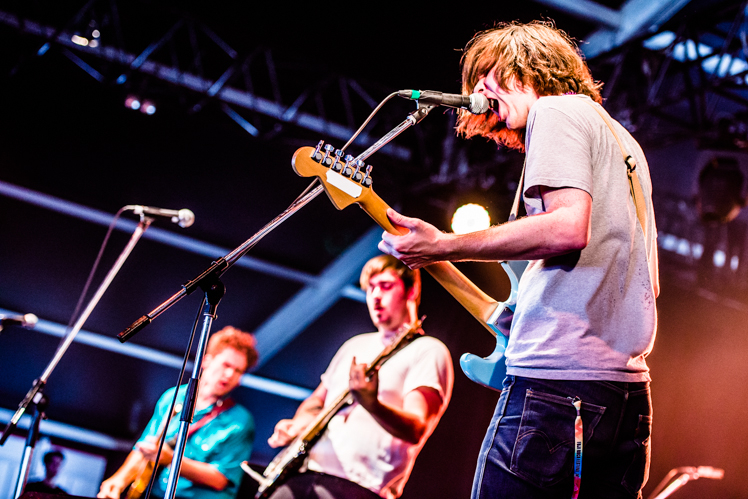 Just like everyone else who attended the fest, I saw lots and lots of really good shows at Fuji Rock 2014. But the performances below stood out from all the rest. Click on the links to read reviews of each act's fantastic gig in Naeba.
1) Parquet Courts @ Red Marquee (7/25). Read the review here.
The American quartet wasted little time showing why they have become one of 2014's most buzzed about indie rock acts. Parquet Courts' noisy, angular tunes were intense and immediate. To be honest, I thought their highly praised "Sunbathing Animal" album was good but not great. But after watching them in the Red Marquee I understand what all the hype is about.
2) Outkast @ White Stage (7/27). Read the review here.
This show was a blast from start to finish. From the first notes of opener "B.O.B" to the last seconds of closing cut "The Whole World," Andre 3000 and Big Boi were highly entertaining and a lot of fun to watch. Early reviews of their reunion tour may have been subpar, but these hip hop icons were in top form at FRF '14.
3) The Inspector Cluzo @ Red Marquee (7/26). Read the review here.
My first time learning of The Inspector Cluzo was at FRF '09 when they turned in an awesome set at that summer's pre-fest bash. Since then, I've also watched the French duo play in Australia and South Korea and they were great at both those gigs as well. Each time I've seen them, their stage show has been very similar with the same gimmicks, lots of cursing, and plenty of excellent hard bluesy rock. But you know what, despite having seen them do pretty much the same thing four times now it still kicks ass every time. And I'll keep seeing them every chance I can get. I highly recommend you do the same. I'm very confident that you won't regret it.
4) First Aid Kit @ White Stage (7/25). Read the review here.
Another critical darling, it took little time to realize why First Aid Kit's wonderful folk songs have received so much positive press. Twenty-something sisters Klara and Johanna Söderberg simply ooze talent and this was on full display during their White Stage showing. Not that they needed the help, but Johanna showing off her Japanese talents between songs is definitely going to boost the fast-rising duo's fanbase in Japan.
5) Jungle by Night @ Crystal Palace Tent (7/26). Read the review here.
Unknown to most Fujirockers before we got to Naeba, they were the act that lots of us were talking about as the sun rose on Monday morning. And with good reason too! The fresh-faced Dutch nonet turned in a killer set of jazz and funk in the Palace of Wonder. This is one of those performances that should have had a huge queue outside of the Crystal Palace Tent. But I'm guessing if the gents ever play in Fuji Rock's Spiegeltent again that will certainly be the case.
SAME CATEGORY
posted on 2014.7.26 12:42

posted on 2014.7.25 11:16

posted on 2014.7.25 10:48
Drop us a line...

posted on 2014.7.24 18:35

An exclusive VIP lounge nestled inside Palace of Wonder

posted on 2014.8.1 15:39

posted on 2014.7.22 23:46