We Love Fuji Rock! What About You?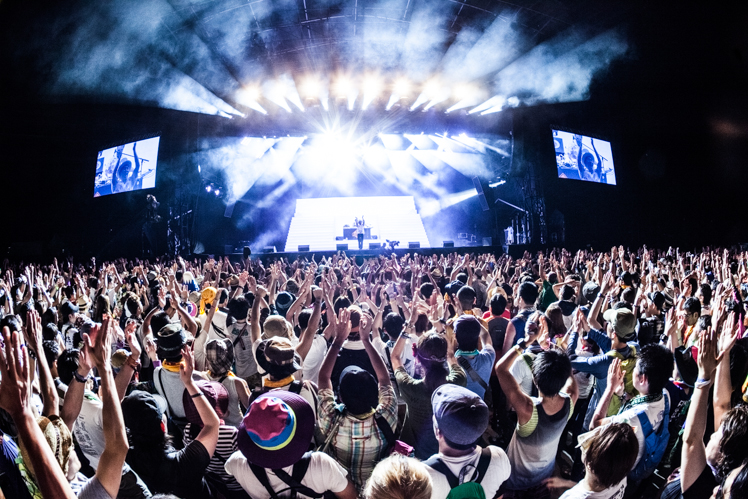 Every summer, the sights, sounds, and most importantly all of the fantastic people make Fuji Rock one of the year's high points for all who make the trip to Naeba. And this year's fest was no different. Through our coverage on the Fujirock Express '14 site, I hope we've given you a great overview of what it's like to spend a weekend enjoying the stunning surroundings and everything else at the Fuji Rock Festival. And while we appreciate you taking the time to read our posts and check out all of our talented photographer's excellent pictures, we'd much rather speak with you, share a drink with you, dance and jump around with you, grab some grub with you, or just relax in the stream and chat with you at Fuji Rock.
Usually Fuji Rock doesn't announce the dates for the next edition of the fest until New Year's Day. But breaking from tradition, 2015's dates were revealed to everyone as they left this year's festival on Sunday night. Fuji Rock 2015 will take place from July 24 – 26. We hope you can join us!
In the meantime, I wanted to close out the English version of Fujirock Express '14 with all of our hardworking writers sharing why they love Fuji Rock. Check out what everyone has to say and please feel free to comment below with your own thoughts on the festival.
Sean Scanlan (been to FRF 14 times … but to tell you the truth, I don't remember a few of them!): I went as a fan to Fuji Rock in 2000 and saw some really mediocre bands. Worst of all, the walk from the Green Stage to the White Stage seemed interminable. I believe that it was sometime at about 3 am when Ozomatli played that I seemed to get it. What other festivals put on a band like that so late at night, and let them take it outdoors to the Bon Odori stage? The sun was coming up now and I was hooked. I started working for Fujirock Express in 2002. The internet didn't work that well back then and every set seemed like a torrential deluge. It was damn hard to write on a notebook in a downpour, and sometimes my beer would be half rainwater. But things got better and better each year, and it's the friendships that keep me coming back – talking to Jane at the fish and chips shop, Jim West the vinyl spinner, Pockets, the security guys at the Crystal Palace, and of course everyone on our team. There are so many amazing people at Fuji Rock. And the fest does a great job of getting everyone to come back every summer!
Dave Frazier (been to FRF 13 times): Even though it's the most famous music festival in Asia and arguably the best, I think the thing that makes Fuji Rock special is its community aspect, and especially the attention it devotes to small stages and things like the kids' area, Daydreaming, the slack line performances and other areas where people can bond with each other, as opposed to merely spectate. That said, sometimes I wish the festival were less hectic, or that they would do something really radical, like suspend all performances from 5–7 pm one day so everybody could just hang out, instead of racing from stage to stage trying to pack it all in. You always miss something, but in the end, the festival is more about your discoveries than your regrets.
Shawn Despres (been to FRF 10 times): Fuji Rock is amazing. It's as simple as that. The site is amazing. All of the stages are amazing (especially the smaller ones). Everything about the Palace of Wonder is amazing. The artwork in the woods is amazing. The food is amazing. The music is amazing. The staff and volunteers are amazing. And the audience is one of the most amazing crowds you'll ever encounter. I hope that everyone reading this in Japan and abroad gets to experience the fest at least once in their lifetime. But I betcha you'll be back for more and more amazing experiences in Naeba after that! Fuji Rock truly is one of the most amazing music festivals in the world.
Elizabeth Sams (been to FRF 8 times): For me, Fuji Rock is a chance to hang out in the mountains with thousands of people at their happiest and friendliest. Most festivals are about peace and love on the surface. And then someone steals your tent. Fuji Rock is the only one I've been to that actually feels like it lives up to those ideals. And famous people play music.
Lisa Wallin (been to FRF three times): Fuji Rock is the fest that all other fests wish they could be. While other festivals focus exclusively on bands to draw the crowds, FRF offers way more: a vibe that is awesome, open, caring and completely impossible to replicate. It's hard to describe in words but you'll know what I'm talking about if you've been there.
Jamie Tennant (been to FRF 3 times): I love Fuji Rock because it doesn't matter who's playing. There's so much music, you're going to find something you love (maybe even something you didn't know you'd love). In-between there's fantastic food, beautiful scenery, friendly people and an overall vibe of excitement and, dare I say it, joy.
Patrick St. Michel (been to FRF 3 times): After three years of trekking out to Naeba despite the threat of sudden downpours and receiving a painful collection of bug bites, what makes me excited for every Fuji Rock is the atmosphere the festival conjures up. It's not just the backdrop – though being surrounded by lush greens and misty mountains is a plus. Ultimately, regardless of who is playing, it's the weird energy of thousands of people heading for the hills for three days to take in music and a unique summer experience that sticks with me. Nothing else in Japan feels like it.
James Mallion (been to FRF 3 times): For me, Fuji Rock is the whole experience. It's new discoveries at every corner and music of all genres and status: pop bands, obscure indie bands, up and comers and legends 50 years in. It's about people, friends both old and new, it's being surrounded by nature and the mountains, it's the special connection and knowing we're all experiencing the magic in our own way but are being brought together and taken over by this force that we all create in the mountains of Naeba once a year.
Matt Evans (been to FRF 2 times): To me Fuji Rock is heaven. It's three days escape from the grind of life, to spend in the amazing nature of Naeba with some of the best bands in the world. But the very best thing about Fuji Rock is the people and the community. The festival's atmosphere is so friendly and you can talk to anyone and expect a smiling reply. The sense of togetherness and of sharing this unique experience is what draws me back up the misty mountains, no matter hail, rain or shine.
Alisa Yamasaki (been to FRF 1 time): As a Fuji Rock rookie there was a lot for me to learn, like resigning to the fact that it's impossible to see all the bands you want and enjoy everything Fuji Rock has to offer without passing out from exhaustion. That said, in the limited time and energy one has at the festival, it's hard not to have an amazing time. The gorgeous mountain backdrop makes listening to your favorite artists especially memorable, and even if you're too tired to walk from one end of the festival to another, chances are there's a great band playing right where you decided to plop down. From what I witnessed, it's the friendly sense of community that exists in Fuji Rock, not the lineup, that has people coming back year after year.
Fujirock Express '14 Staff:
English version – http://fujirockexpress.net/14/
Writers: Shawn Despres, Dave Frazier, Sean Scanlan, Elizabeth Sams, James Mallion, Patrick St. Michel, Lisa Wallin, Matt Evans, Jamie Tennant, Alisa Yamasaki
Japanese version – http://fujirockexpress.net/14/
Writers: Ryohei Maruyama, Yasuaki Ogawa, Nobuyuki Ikeda, Hiromi Chibahara, Ai Matsusaka, Takafumi Miura, Tomoka Ishizumi, Takahiro Oyama, Hiroshi Moriwaki, Daisuke Matsumura, Akihiro Noguchi, Daisuke Aoki, Izumi Azuma, Ataso, Nozomi Yamamoto, Paula, Maki Nazuka, Kanako Kikuiri, Nozomi Wachi
Photographers: Ryota Mori, Yoshitaka Kogawa, Yusuke Kitamura, Naoaki Okamura, Mitch Ikeda, Julen Esteban-Pretel, Keiko Hirakawa, Hiroshi Maeda, Miyuki Samata, Yutaro Suzuki, Kenta Kumei,
Izumi Kumazawa, Toru Suguta, Mamiko Miyakoshi, Masami Munekawa, Sora Mori, Masami Yasue, Shinya Arimoto, Daisuke Fujii
Web design & Programming: Daisuke Sakaue, Moeka Miyazaki, Manami Nakahara, Syoji Terasaki, Tomoki Hiranuma
Fujirockers Lounge: Yamato Fujiwara, Mika Iimori, Atsushi Yuzawa, Yukifumi Sekine, Noriko Yamaoka, Tomoko Obata, Syoko Ikenoue
Producer: Koichi Hanafusa
posted on 2014.8.15 14:10
SAME CATEGORY
posted on 2014.7.26 10:00

posted on 2014.7.26 13:52

posted on 2014.7.25 12:32
Drop us a line...

posted on 2014.7.24 18:35

posted on 2014.8.6 14:08

posted on 2014.7.27 10:31