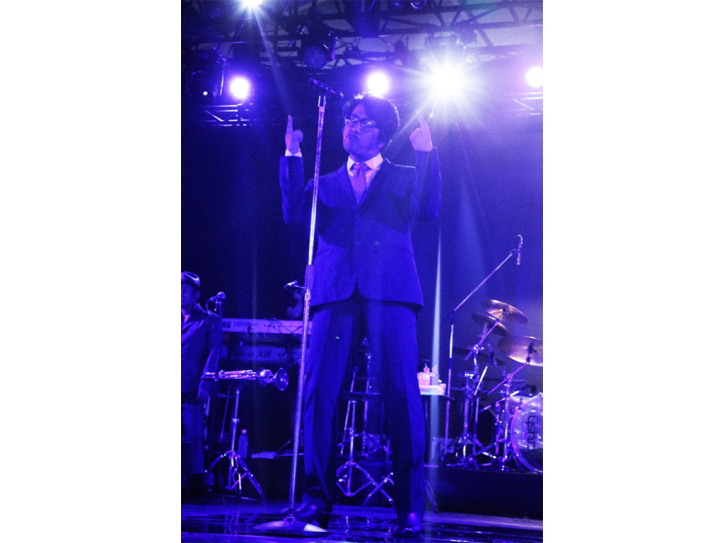 Yasuyuki Okamura
To kick proceedings off, the band build suspense with an instrumental passage till man himself shows up. Rocking up in a sharp suit, it's obvious Okamura is here to get the part started and he does just that. His brand of music could be called dance pop, a sugary coating of pop sensibilities around a core of dance music beats and with occasional glimpses of funk thrown in for good measure. The visual aspect of the performance seems just as important as the music, with Okamura rocking some smooth dance moves and is joined by two professional dancers as well who are perhaps the highlight of the set for me with their excellent moves.
The sound may be pop but it features squirts of blaring trumpet as well as wailing saxophone. They do seem criminally underused though with the focus on the vocals. Nevertheless, the second song of party pop with a nice bass line goes down well. The following number is a slower more straightforward pop ballad with piano chiming behind Okamura's polished voice. The passion the fans have is evident, in their three minutes singalong with the ending of the next song and constant singing throughout the set. Indeed, the Red Marquee is incredibly packed and so crowded that two women in front of me were taking turns to stand on their chair to catch a glimpse of him.
Just to prove he's not all good lucks and pleasant tenor, he whips out a surprisingly technical acoustic guitar solo as well. The other instruments get a turn as well with the brass and guitarist taking turns to show off their skills. The show concludes with one last sing and clap along after thanks from the main man. The fans seemed thrilled with the set and the happy buzz in the crowd was carried from that stage back to the rest of the festival.
Photo by MITCH IKEDA / Text by Matthew Evans
Posted on 2015.7.30 11:28