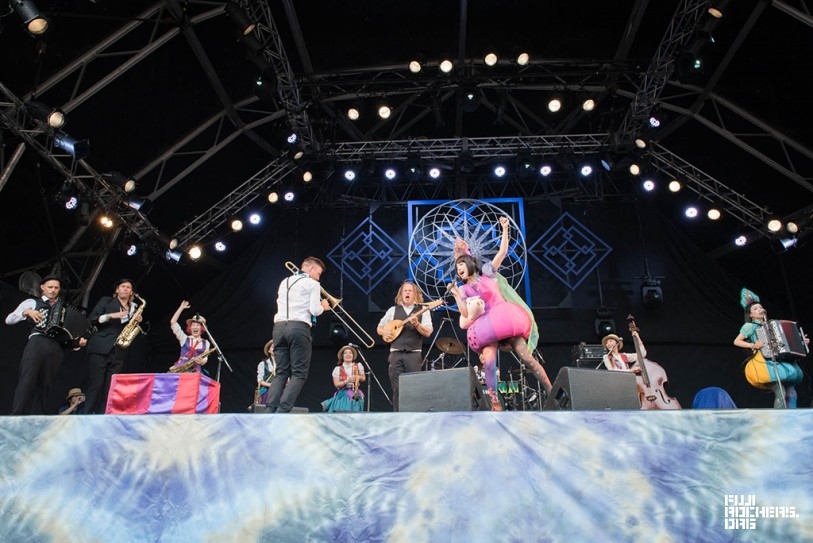 Best of the Fest: James
For music lovers living in Japan or even abroad with the means to travel here, Fuji Rock Festival is a time of year I know we all circle in our calendar. It's a special place that exists as its' own community outside Japan or the rest of the world. This was my fourth year coming to the fest and my second as part of the e-team and I think I'm just starting to get comfortable with the festival. It's a behemoth of a festival with so much to do, explore, try and take in, that the time always seems to fly by. Before I know it, I'm being woken up on Monday morning and being told it's time to go home. There's so much amazing and diverse music that goes on at the festival, that even with the removal of the Orange Court this year, I still found myself struggling to find the time see all the acts I wanted to see. With that in mind, the job of picking a best five feels like a daunting task, as there is so much diverse music, each with separate appeal in different situations. The same band may play a set on one day that would make it into my top three when their set on another day or on a different stage wouldn't even crack the top twenty. However, I digress, people like lists, myself included, so I will attempt to deliver my top five sets of the festival this year.
1) Charan-Po-Rantan @ The Field of Heaven (7/24). Check the review here.
Sisters Momo and Chiharu (aka Charan-Po-Rantan) were back at the fest after a three year hiatus. This time they seemed more self assured and ready to make sure it wouldn't take another three years to be invited back. They were my first act of the fest and they set the bar incredibly high with their irresistibly fun gypsy/folk/polka music and their hilarious banter with the crowd. What really put this set over the top for me was the guest appearance of Swedish gypsy/punkers Räfven. The energy level they reached together with Charan-Po-Rantan and their band was incredibly high. Not including this guest spot, Räfven played five sets over the course of the festival and if I didn't mentioned them here I might just rank them at number two in my top five.
2) Hiromi Uehara The Trio Project @ The Green Stage (7/25). Check the review here.

I'm not usually a fan of sets at the Green Stage and its' sprawling stage-front that has room for tens of thousands of fans. It's just a bit too impersonal for my taste. However, early afternoon, less crowded sets, especially by talented performers can often change my mind. Hiromi Uehara's midday set here at the Green Stage was very warm and one of the most technically skilled performances of the festival. Being a big Jazz fan I had been itching to see the internationally acclaimed Hiromi Uehara trio for some time and they didn't disappoint one bit. Each of the three in the band, Hiromi on keys, Anthony Jackson on bass and Simon Phillips on drums is very much a master of their chosen instrument. When three masters collaborate it usually proves very special, such was the case on Saturday at the Green Stage. Each member was given time to show off and prove why they have become famous the world over for playing music.
3) Goma @ The Pyramid Garden (7/24). Check the reivew here.
This is a set that I'm certain won't make it onto another best of list this year. However for me, Goma's late night, Pyramid Garden acoustic set, provided one of the most unique experiences I've had. It reminded me that it's diversity like this that makes Fuji Rock such a special festival. Technically speaking, Goma is on another level than most instrumentalists, let alone most didgeridoo players, it's breathtaking to watch. His nonstop set, along with the tranquil Pyramid Garden setting, very literally put many in attendance into a trance. Being transported from the madness of Fuji Rock into the world of Goma for thirty minutes is an experience I will never forget.
4) Philip Sayce @ The Field of Heaven (7/25). Check the review here.
The fact that this festival is indeed called Fuji Rock Festival and not simply Fuji Festival or Fuji Music Festival, I felt compelled to included a rocker on here. For my money, no one rocked as hard as Canada's Philip Sayce did over the entire festival. He's been an in demand session player for many years and has recently broken free to show the world his skill at hard rock/blues guitar. His guitar work and technical skill ranks with some of the best I've ever seen. Some of his guitar heroes include legends such as Stevie Ray Vaughan, Eric Clapton, Jimi Hendrix and Jeff Healey. There's no doubt that his Saturday evening set at the Field of Heaven would have impressed any of those guys.
5) Root Soul @ The Palace of Wonder (7/26). Check the review here.
Stepping up as the first band of the funk/soul night at the Palace of Wonder on Sunday night, it was a real treat to see Mr. Root Soul himself, bassist Kenichi Ikeda have so much fun and exude so much joy getting to do what he loves at Japan's biggest festival of the year. The jam sessions the band had, particularly the guitar battles between Ikeda and electric guitarist, Tomoyasu Takeuchi, were some of the rawest, funkiest and most fun I've ever seen. They had the crowd to the brink of insanity without uttering nearly a word the entire set through.
Text by James Mallion Photo by Ryota Mori
Posted on 2015.7.29 19:42