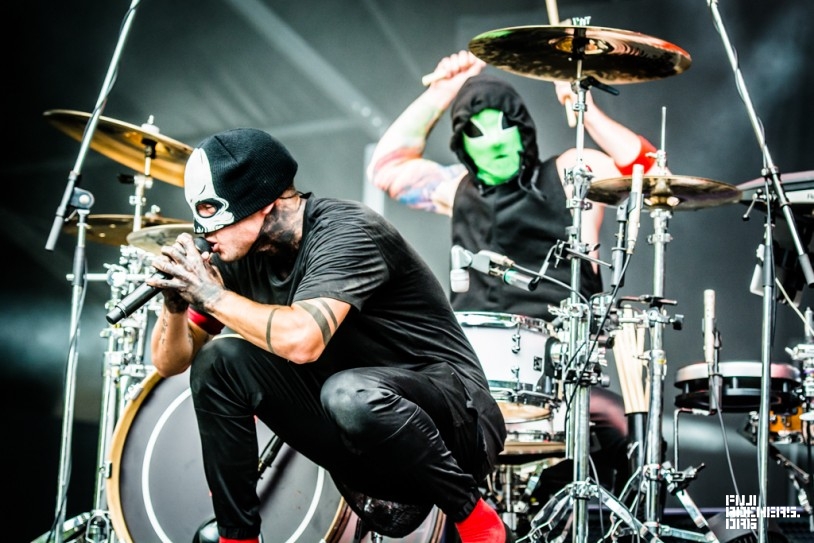 Best of the Fest: Laura
First Fuji Rock Round-Up
This year was my first ever Fuji Rock and being able to attend it as a writer gave me a very different perspective on the usual festival experience, as well as some seriously bashed up feet. With 18 bands to cover over the weekend, plus trying to squeeze in other bands I wanted to see for fun, there was a great deal of running around, some great experiences, and a few missed opportunities. I had't seen the Foo Fighters since a gig at the London Astoria as a teenager, so it was nice to squeeze in 20 minutes (and a beer) to enjoy their show before running off to cover Rudimental, who more than made up for the lack of Foo Fighters in my schedule with a fantastic set. One of the other bands I saw in passing was Rafven, whose giant polka-pit at the White Stage I got to observe from the hill leading up to Gypsy Avalon. I will certainly be making more time to see them properly in the future.
Narrowing down a Top 5 of the fest is quite a interesting task. Going back over reports and reassessing the shows has been insightful and threw up one or two surprises, so I have to give honourable shout outs to my favourite ska legends Kemuri, who are not in my Top 5 this time, if only because I didn't want it to look like I spent my whole weekend at the White Stage.
5) Big Willie's Burlesque Reggae Revue @ Cafe de Paris (7/24)
"Everyone needs some Big Willie in their Fuji Rock experience," I was told (cue drum splash) and as a way to kick off my Fuji Rock experience I can most certainly agree. The show was like watching reggae in a casino – slick, glitzy and with just the right amount of naughtiness for a Friday afternoon.
Read the report here.
4) Royal Blood @ White Stage (7/24)
This weekend had something about it where two-piece bands put on stunningly good shows, the likes of which bigger bands would struggle to find the energy for. Royal Blood up on the White Stage benefitted hugely from the amphitheatre-like surrounding hills and the deafening volume the sound-crew kept the stage at the whole weekend. Mike Kerr's bass rolled and growled across the crowd and Ben Thatcher's drumming had an animalistic force to it that made this one of the stand out shows of Friday.
Read the report here.
3) Of Monsters and Men @ Red Marquee (7/26)
I have to confess that I am actually a massive heavy metal fan, so when the fatigue started to kick in on Sunday night as I trudged over to the Red Marquee, I was wondering why I had requested to cover some Icelandic folk band my friends had been chatting about when I was making my festival coverage choices. As it turned out, it was the kind of show that gives you goosebumps and had it not been in the sweaty confines of the Red Marquee, but somewhere like the White Stage, this could well have been further up my list.
Read the report here.
2) Rize @ White Stage (7/25)
I came out the Rize show and was heading back to write it up when I bumped into photographer Julen. We both pretty much said the same thing at the same time: "That was fucking awesome!" and "Why have I never seen this band before?" Perhaps it's because the band are off doing other things, or maybe I'm just not paying enough attention, but Rize's show was exactly the kinds of metal jolt needed when you're operating on 3 hours sleep.
Read the report here.
1) Twenty One Pilots @ White Stage (7/25)
This was not Twenty One Pilots first Fuji Rock rodeo, but from the reactions of the people around me, it was definitely the first time a lot of people at the festival had seen them, myself included. Having not been enamoured with their first album I hadn't paid them much attention, but thought that a band describing themselves as "schizophrenic pop" was well worth checking out, and I was not disappointed. Continuing the theme of tiny bands doing massive things, this show was the highlight of the weekend for me, and now has me thoroughly converted.
Read the report here.
Photo by JulenPhoto / Text by Laura Cooper
Posted on 2015.7.30 14:39