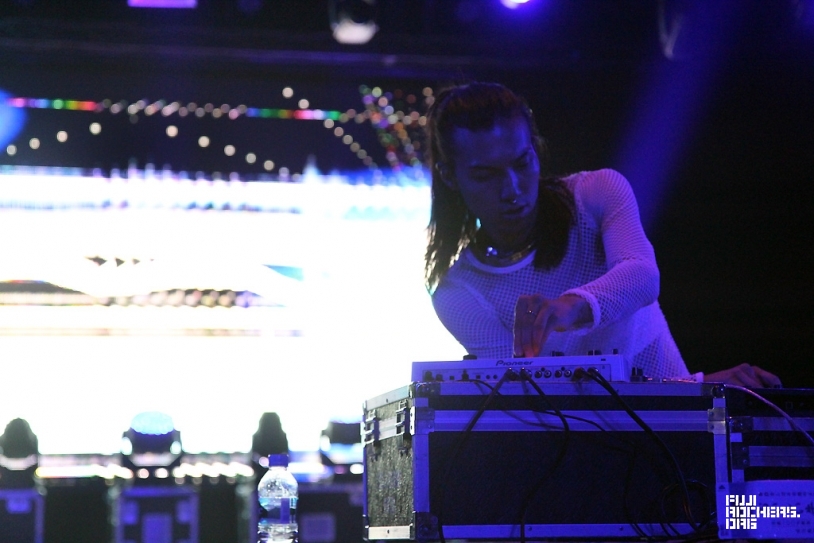 Best Of The Fest: Patrick
This Fuji Rock festival, my fourth covering the even for this site, was spent walking constantly, and constantly smacking into nostalgia. I probably saw fewer complete sets than in any other previous year, but somehow always managed to stumble across moments from sets that resonated with me because of how much the songs once meant to me, years ago. The first three numbers from the Foo Fighters' Friday headlining slot ("Everlong," "Monkey Wrench," "Learn To Fly") shot me right back to middle school, while the one tune from Jenny Lewis' Sunday performance I overheard happened to be a staple on my college "Sad = (" playlist ("Portions For Foxes"). I was ready to bail on Belle And Sebastian as they opened with two songs from their new album…but then came "Seeing Other People" and I was reduced to a fay pile of teenage garbage. Neil Gallagher's closing performance probably left an impression on me because seeing other people have intense feelings for older songs was an experience I had been having all weekend.
Yet, despite this being the personal trend I'll associate with Fuji Rock 2015, all my favorite full-length sets came courtesy of relatively young groups (and, in a first, completely Japanese). It's a weird wrinkle, but that's why I keep on hopping on the bus to Naeba every year.
5. Rei @ Gypsy Avalon (7/24)
The biggest surprise of the festival for me, as I went in to this Friday set having zero idea who Rei even was. Yet her decision to open up her performance with a string of deeply depressing numbers ("I want to be hit by a bus tonight") left an immediate impression at an event where performers usually try to be as peppy as possible. Yeah, it was grim, but I didn't want to hit up the beer tent either.
4. Gesu no Kiwami Otome @ Red Marquee (7/25)
A set boosted by perfect timing — Gesu no Kiwami Otome are probably at the peak of their (surprise) mainstream popularity in Japan, and that was reflected in the absolutely swarmed Red Marquee area for their late afternoon set. The backdrop was fantastic, but the band made sure they could match the setting. The quartet played a well-exectued set featuring most of their big numbers, with a few knottier segments thrown in for good measure (noisy section! weird spoken word passage!).
3. Hysteric Picnic @ Rookie-A-Go-Go (7/25)
Best Rookie-A-Go-Go band of the fest by one writer's measure at least, Hysteric Picnic shined by being cacophonous. Yet it wasn't the sort of sonic chaos that was really a band jerking around to get attention (coughcoughBomboricough), but rather a direct, stone-faced variety that snapped anyway paying attention out of their late-Saturday-night daze.
2. Seiho @ Red Marquee (7/26)
I mean, I've seen this Osaka producer play live more than a dozen times before, so I figured this would be a fun but familiar way to close out Fuji Rock 2015. Nope, turns out Seiho evolved to a new level at the late-night Red Marquee Sunday, delivering a frantic set that did something few other performances over the previous three days did — get me dancing like a fool. It was a mix of older material and wonky new creations (and an interlude where he drank…milk?…out of a flower vase), but paced just right. An absolute eye-opener from an artist I thought I already liked a lot.
1.group_inou @ Red Marquee (7/25)
The pair making up group_inou are two of the most unspectacular looking dudes you'll see grace a stage, yet I feel that's how they draw most of their energy. Despite being together for a decade, the duo still perform like their time under the spotlight is about to end, making every second of their show count. Their mid-day Saturday show under the Red Marquee was urgent, with both members losing themselves in the music and letting it all hang out.
It was all out on the line from opener "Eye." Rapper cp flailed around the stage like he didn't know what to do if he stopped, while producer imai bopped along to the music he was creating. The set touched on new material (from Map, released a couple weeks before Fuji Rock) to older numbers such as "RIP" and the dolphin-centric "Therapy." It was all high-energy fare, yet the best moments came when either member just totally gave in to the moment, whether by letting out a guttural scream (cp) or punching their equipment in excitement (imai). Nothing felt more alive than group_inou at Fuji Rock 2015.
Photo: Miyuki Samata Text: Patrick St. michel
Posted on 2015.7.30 21:33