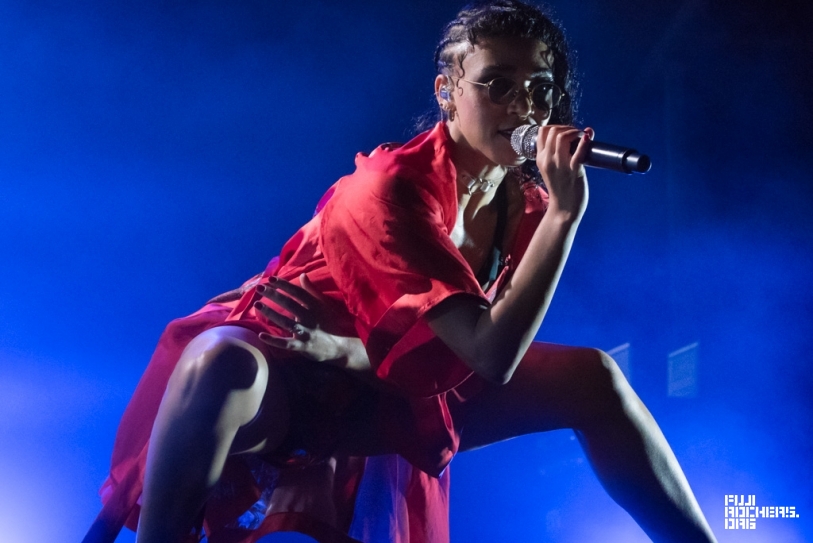 Best of the Fest: Park
My first ever experience at Fuji Rock was one that exceeded my expectations for a live music festival and only left me wishing I had time and energy to take in more. The fact that there were a hundred different things to take in at any given waking moment throughout the weekend was something I never could have expected.
I was previously unfamiliar with Eastern European-influenced klezmer rockers Rafven, who have taken Fuji Rock by storm and won over tons of new fans (me included) with their high energy performances. The same success story goes for Charan Po Lantern this year, who I had caught in previous Tokyo shows but seem to keep getting more and more entertaining each time. Joey Bada$$ held his own in a lineup lacking many other hip-hop acts. Gesu no Kiwami Otome were a band that I definitely wasn't expecting to knock my socks off like they did. Although those few came close, here are the top five acts that left the biggest lasting impression on me:
5. Hudson Mohawke @ White Stage (7/26)
I had not really taken much interest in Hudson Mohawke prior to his Fuji Rock performance. Of course I had heard a few of his songs here and there from recent years, dug his production work on "Mercy" with Kanye West, and it was hard to escape the catchiness of "Chimes" after it was used in a Macbook commercial. It may have been the sleek stage setup that got me into the groove, or just the fact that the music was finally cranked loud enough to actually feel it, but midway into his Fuji Rock set, something finally clicked. Hudson Mohawk ceased from just existing in the background and being "just another electronic music artist". Sometimes it takes a great live performance to open up your eyes to a particular artist and that was definitely the case here.
4. Foo Fighters @ Green Stage (7/24)
Foo Fighters delivered everything one could ask for and more in a headlining act. They managed to work in all the fan favorites, putting a new twist on some of them. They were equally entertaining between songs with hilarious banter, and they kept things simple to let rock and roll speak loud and clear.
3. Seiho @ Red Marquee (7/26)
Seiho closed out the festival in a big way, letting his chopped up sample-heavy sound collages bounce off the Red Marquee's tent walls. Watching him constantly at work twisting knobs and absolutely wailing on the korg keyboard was just as entertaining as the face melting music that he managed to squeeze from it all.
2. FKA Twigs @ White Stage (7/26)

FKA Twigs left fans seemingly unable to speak, transfixed by her slinky and seductive performance. Each song was blurred into the next and I was completely stunned by her breathy vocals and elegant dancing. Where many artists base their live performance on relating closely with fans, FKA Twigs put herself on another level, untouchable by anyone in her presence.
1. group_inou @ Red Marquee (7/25)
I had high expectations going into group_inou's midday set at the Red Marquee on Saturday and they definitely delivered. Already a huge fan of their crazy blend of electronic/hip-hop, I had yet to see them live and I was excited to put a real face on the caricatures I had of them in my mind. My real-life image of rapper cp teeter-toddered between harmless smirking jokester and "don't fuck with me" short-statured madman, while he bounded around stage and deftly talk-rapped through each complicated verse. A stunning master of beat production, Imai's waves of computer game beeps and womps erupted into an explosion of sound while he thrashed over the samplers wildly like they were giving him electric shock. Both members looked as though they were enjoying themselves more than anyone under the entire tent, which was impressive considering the whole crowd was in a frenzy, responding with huge cheers at the opening bars of each and every song like they had been waiting the entire set just to hear it. Half wacky half serious, the power of their live performance lies in their strong connection with fans and relentless energy on stage. Needless to say, I'll be keeping an eye on their live schedule to catch them again as soon as possible.
from fujirockers.org
Posted on 2015.8.1 05:31