MORE FUN
EXPRESS
Best of the Fest: Dave
Best Band: LCD Soundsystem
Their fun brand of hipster party music was both crafted to the max — there was an amazing technical perfection to the entire 110 minutes of performance — and also the right sense of partying it up, which is what the 10,000+ audience wanted them to do. In every way, LCD Soundsystem looks and sounds to be a much better band than ever. On their last visit to Fuji Rock in 2010 they were pretty good. This time they were outstanding, the best of the fest in 2017. (See review here)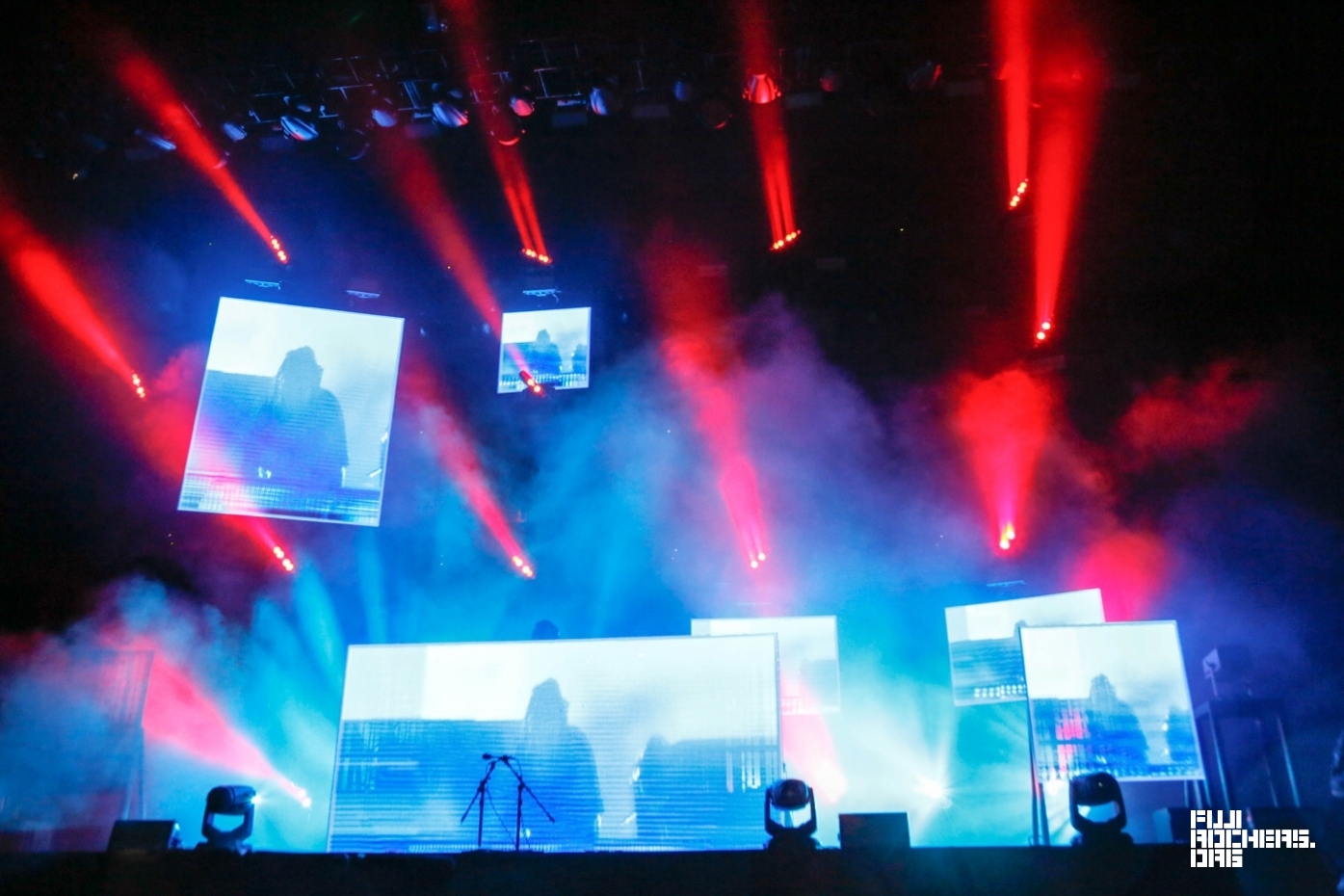 Best Green Stage Act: Aphex Twin
Aphex Twin gave the audience something really unique — a wonderful freedom to feel ambivalent about his music, and he is probably the first ever to end a Green Stage headliner set with 15 minutes of white noise. Just think for a minute about the uniqueness of the decision to program Aphex Twin as a festival headliner. Unlike the song-based rock bands who generally headline (think Red Hot Chili Peppers), with Aphex Twin you're not there for hits, you're there for a sublime cerebral flow. It's high art, and it could have gone terribly wrong. Before the fest, a lot of people were worried it would flop. My own joking hypothesis was that the entire audience would wear VR headsets and find themselves alone in a bleak virtual desert, where they would hear his abstract music while walking endlessly in a vain search for … Aphex Twin. But in the end, Richard D James, one man at a console on a gigantic stage and almost invisible behind the array of screens, delivered a meandering, eclectic and surprisingly danceable journey that was never uninteresting, hooking you in the forebrain and goading you along with each unpredictable jump. Not for one second did I ever feel bored or lost. The music was as marvelous as it was abstract. And the light rain actually quite helped the lasers.
Most Improved Stages: Jim Vinyl Nasium & Ganban Square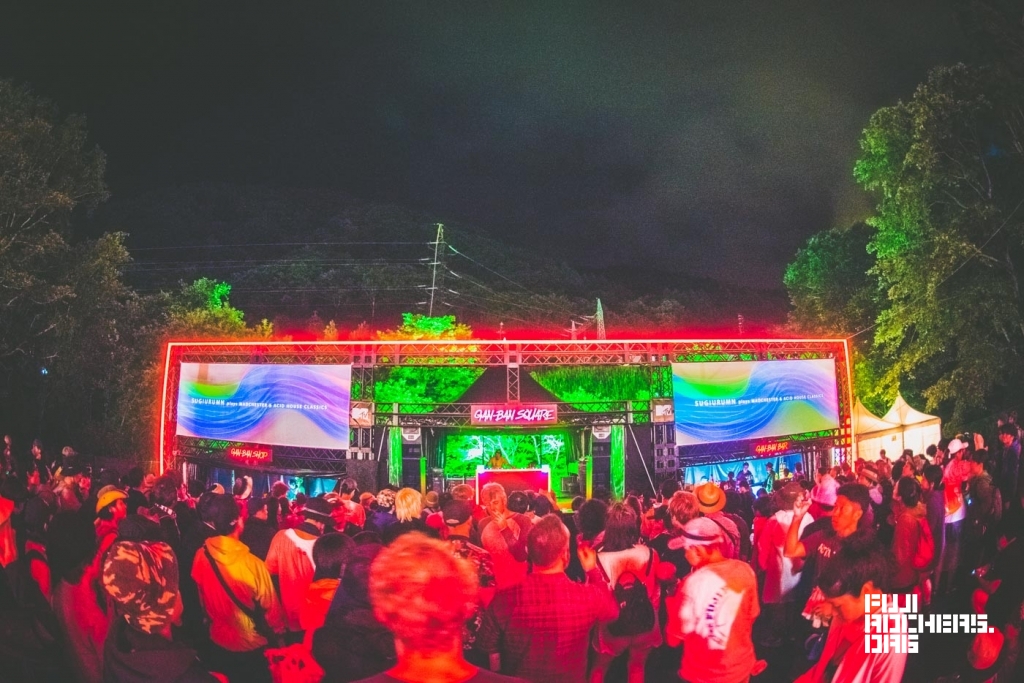 Putting Jim Vinyl Nasium under a large circus tent upgraded it from a walk-by zone in the international food court to a proper area, and the wonderful, vintage music by Jim and the other DJs certainly merited the upgrade. Kudos to Jim for his 6-hour marathon set on Thursday's opening night, which was fantastic. While we are very sorry to lose Solomon's African restaurant, a Fuji Rock institution (let's hope it returns somewhere else?) and its ad hoc backyard VIP zone, I left the festival regretting I hadn't spent enough time under Jim's marvelous new tent.
Ganban Square, by Tokyo party promoter Ganban, had for too long been an underpowered sideshow in the Oasis housed in a goofy tin shack, but this year the lighting, design and sound was fully revamped into a proper nightclub, with a lineup including Takyuu Ishino and Shinichi Ozawa that rivalled the ostensibly bigger dance parties in the Red Marquee across the food court.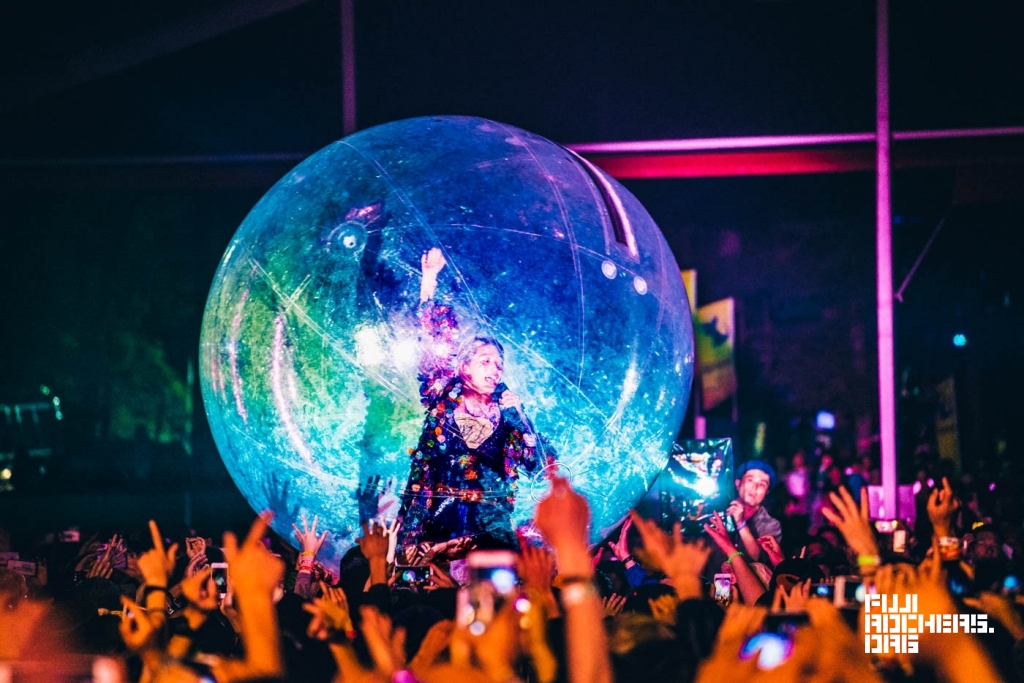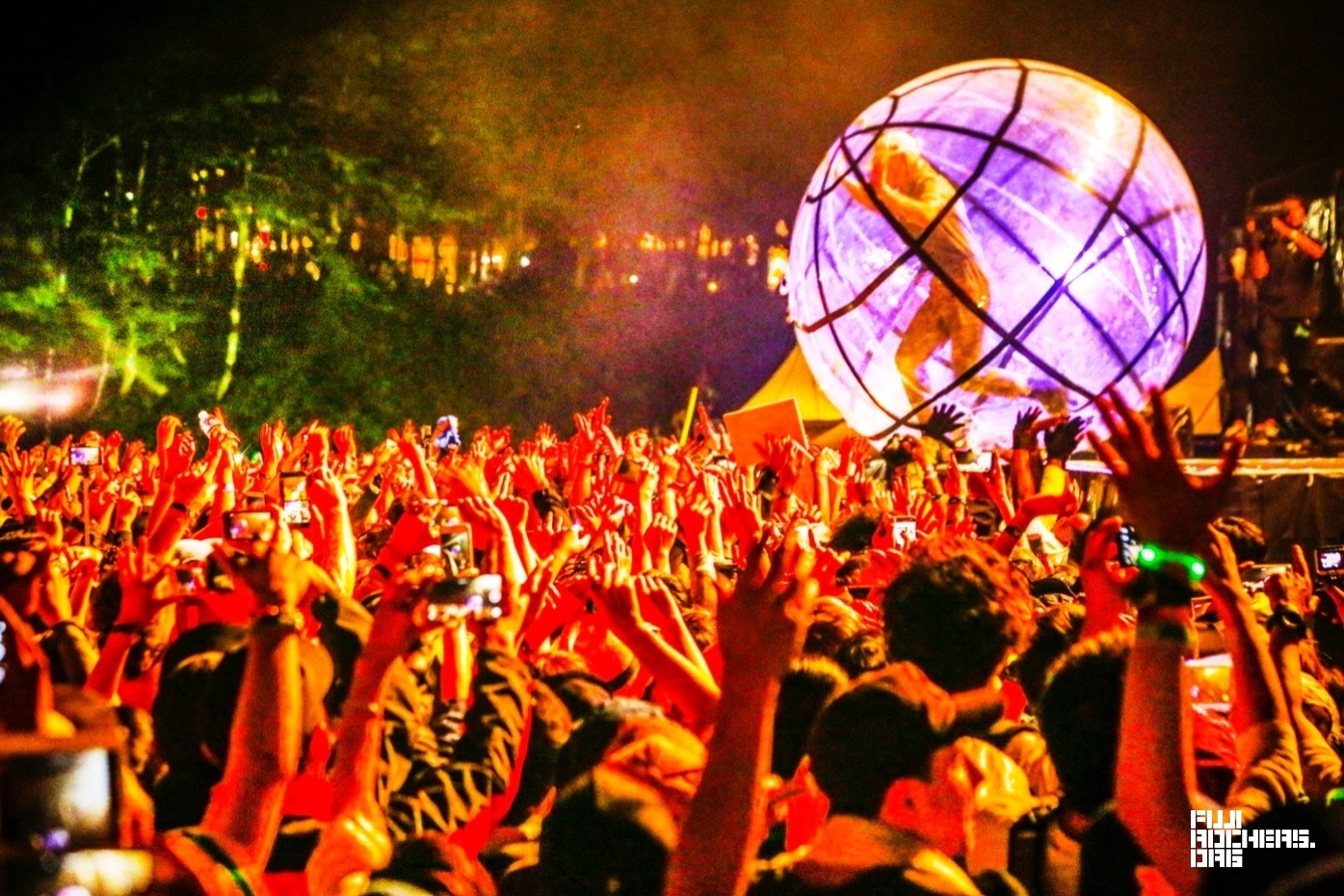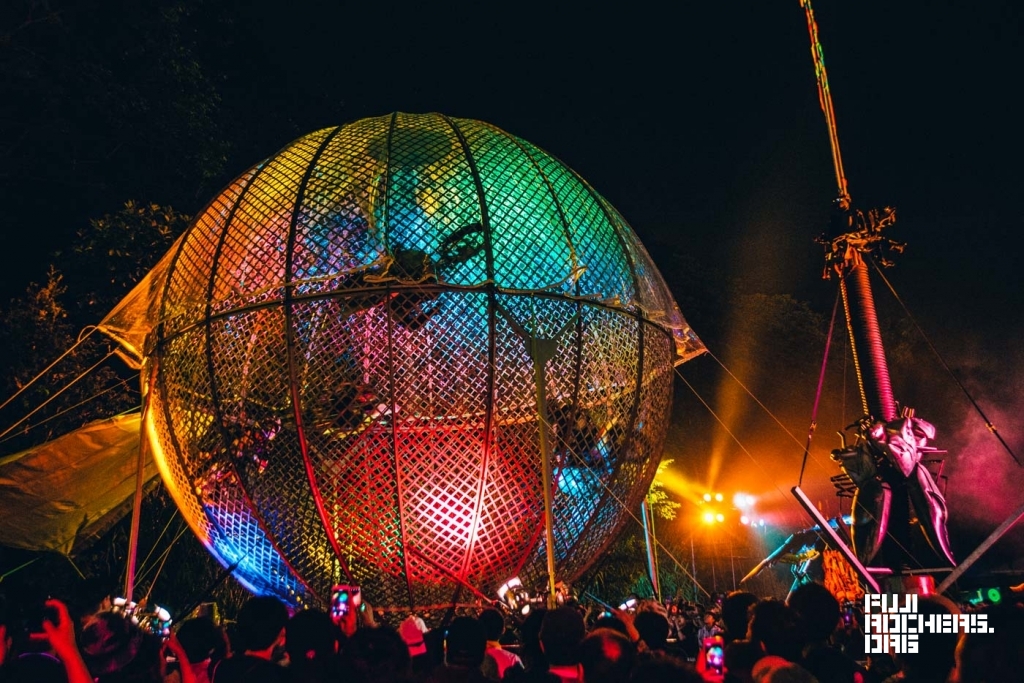 An Interesting Leitmotif: Globes (of Death)
Wednesday Campanella and Major Lazer both got in inflatable globes and walked out on top of the crowd. Wednesday got great reviews, Major Lazer was cheesy. Four motorcycles also performed in a steel Mega Globe of Death in the Palace of Wonder. I have no idea how they pulled it off in the rain.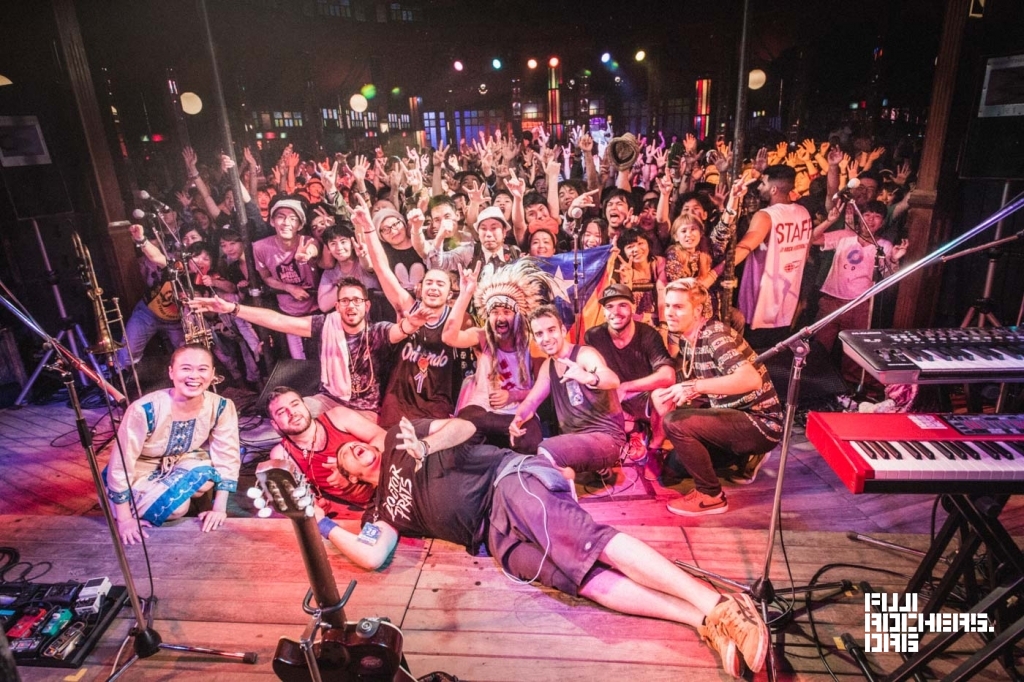 Most Fun Band To Watch: Doctor Prats
The Catalonian rockers were an instant party every time they hit the stage — in Red Marquee for Thursday's opening party, on the White Stage Friday Morning, and in the Crystal Palace late Friday night. I watched all three sets and only found myself wanting more. The performances were absolutely air-tight, and the more I watched, the more I realized how perfect their live arrangements are: cumbia rhythms, horn hooks, Latin pop song vocals, sing-a-long chants worthy of football stadiums, and big room dance beats all wrapped up in tidy four-minute packages. But when they play, it just feels like a party, and that's why Doctor Prats is so fun.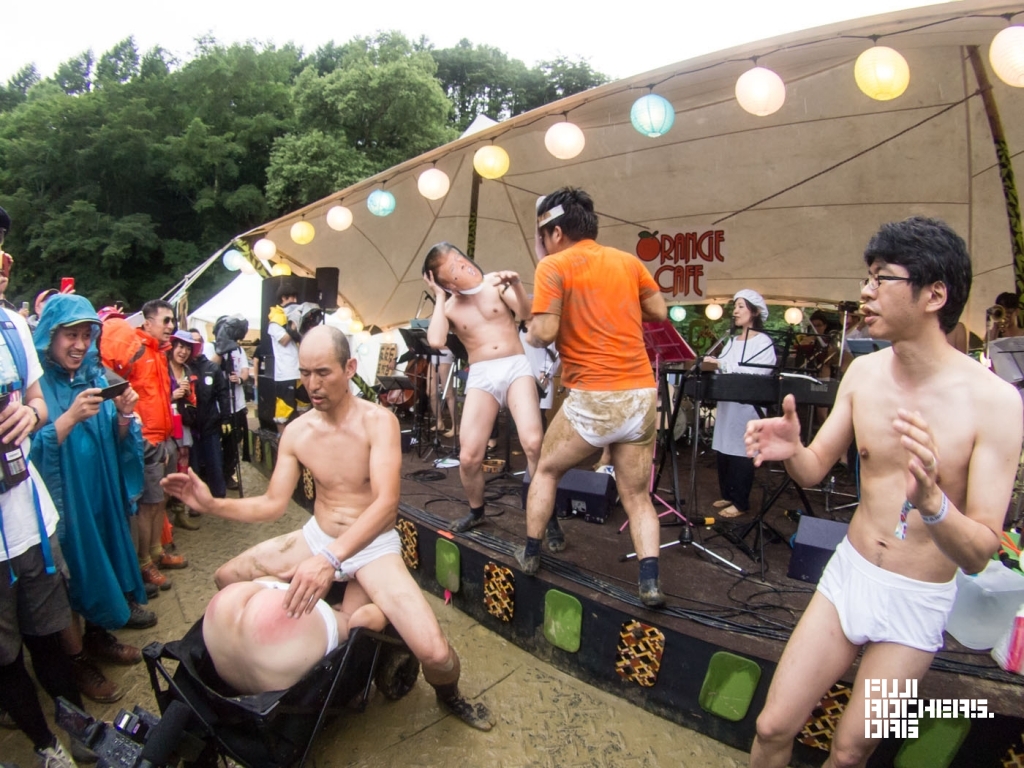 Best Weird Ritual: This
Indeed, there were some weird goings-on in the Orange Cafe.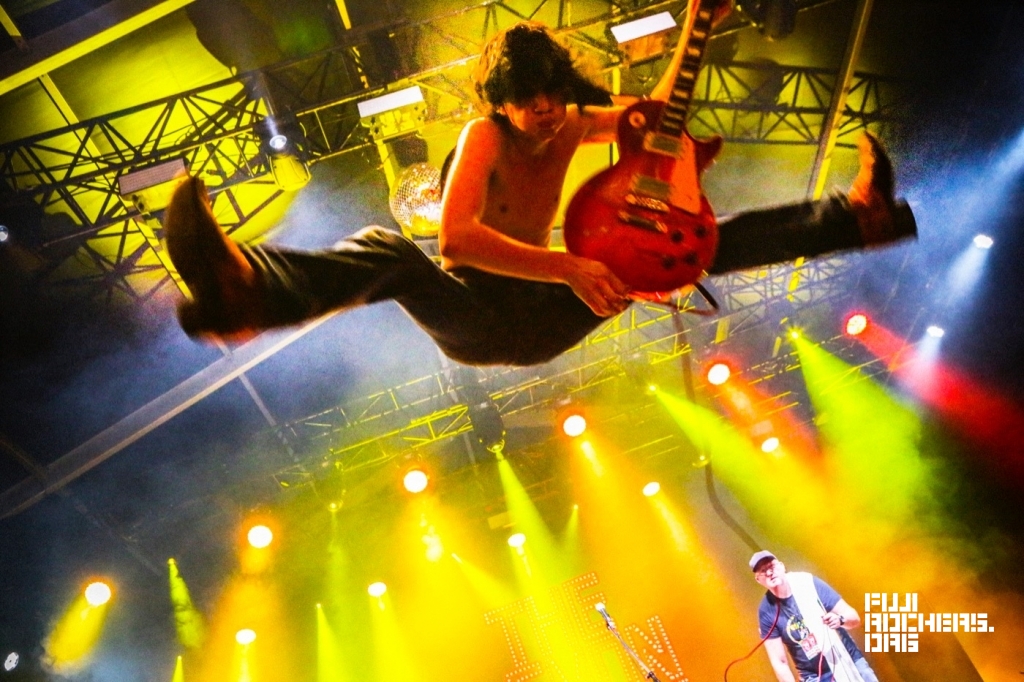 Best Rock 'n Roll Photo
It's hard to say enough about how awesome the Fuji Rock Express team is at documenting the fest. There are literally heaps of amazing photos, but his one of Lemon Twigs by MITCH IKEDA stands out as one of the most "rock 'n roll" pics of FRF2017.