Best of the Fest: Jamie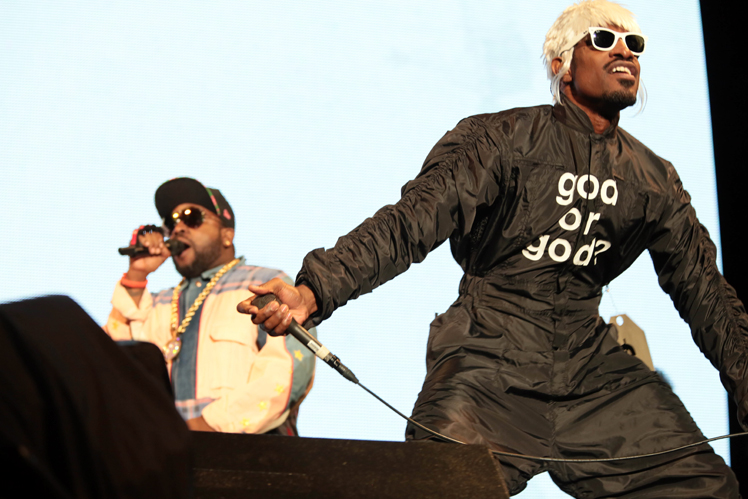 It's hard to be objective when you've wanted to see a band get back together for so many years, but objectivity aside, damn – OutKast put on a good show. The music was perfectly recreated, using a less-is-more set-up. Nevertheless, the stage show was impressive, partially due to the visuals and partially due to the entertaining duo at the fore. Clearly making each other laugh on purpose, Andre 3000 and Big Boi exhibited a camaraderie that makes you ask, once again, why did they split up in the first place? Possibly the best hip-hop show I've ever seen.
2. Arcade Fire, Green Stage, 7/26
Once again, I risk having no objectivity – I'm Canadian, and Arcade Fire are our number one musical export these days. So I'll admit up front, there were slow moments. Yet the sprawling scene on stage kept the show entertaining even when the set sagged a bit on consecutive mid-tempo numbers. They sounded great, played the hits and the fan favourites, and managed to corral their numbers into a tight unit. And Regine is awesome. In short, they took music that isn't particularly 'showy' and around it built a show.
3. Tokyo Ska Paradise Orchestra, Field of Heaven, 7/27
Another populous outfit, TSPO are so tight it's like watching a precision machine. Like, Large Hedron Collider levels of precision. Even if your limit for ska was reached within the first couple of songs, there was no denying the energy and showmanship on display. There's a reason they've been successful for decades, and they dropped some of that reason at Fuji Rock.
4. Owen Pallett, Red Marquee, 7/27
Pallett makes a very difficult task – arranging mini pop/classical suites by himself – look very, very easy. While he was playing, no one in the crowd uttered a sound. It's a fascinating process to behold, and his music, while somewhat esoteric (read: challenging) benefits from the focus of the audience in a live setting. It was the anti-Arcade Fire – no bombast, no big show, just one man, some machines, and the will to make beautiful music with them.
5. First Aid Kit, White Stage, 7/25
First of all, Johanna Söderberg speaking Japanese was too much fun – like she'd taken a couple years of language at college and was thrilled to try it out. Second of all (and, sure, more importantly) the way those meticulous harmonies soared up and around the vast open spaces and into the mountains was incredible. Those harmonies and melodies are what make any First Aid Kit song what it is. There were instruments, sure, but those voices, those harmonies, were stunning.
SAME CATEGORY